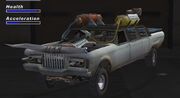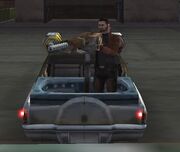 The Tub is a large white limosine, with a hottub in the back and bullhorns on the front, it is driven by the Gauchos. It is unlocked by beating the suicide bomber side activity in Lava Falls
Insperation
Edit
It is based on a 1970s lincoln continental limousine, it's name references it's "Road Boat" origins and the fact that it does have a hot tub in the back.
Usefullness
Edit
It is slow, and can be hard to turn do to it's length, but it's high health makes it very useful in missions throughout the game, though it is a poor choice for racing or anything else.
Ad blocker interference detected!
Wikia is a free-to-use site that makes money from advertising. We have a modified experience for viewers using ad blockers

Wikia is not accessible if you've made further modifications. Remove the custom ad blocker rule(s) and the page will load as expected.