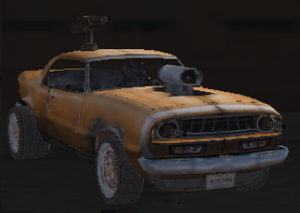 The Pumpkin is an orange muscle car that is unlocked after completing one of the races in Blister Canyon.  It is Factionless. It's civilian counter part is blue and is known as the Hoss. 
It is based off of a 1967 Chevy Camaro.
It is useful for races.
Ad blocker interference detected!
Wikia is a free-to-use site that makes money from advertising. We have a modified experience for viewers using ad blockers

Wikia is not accessible if you've made further modifications. Remove the custom ad blocker rule(s) and the page will load as expected.