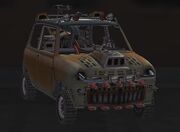 The Bean is a brown subcompact that is unlocked after completing the first race in Lava Falls, in this race, all your opponents will also be Beans. It belongs to the Daredevils faction.
The Bean is based off an Austin Mini Cooper. It's name comes from the british comedian Rowan Atkinson's character Mr. Bean, who owns a yellow Mini Cooper.
Usefullness in the gameEditEdit
For awhile, this will be the fastest car you have unlocked, so its primary usefulness will be in racing,however it isn't very good for most storyline missions because of it's poor health.
Ad blocker interference detected!
Wikia is a free-to-use site that makes money from advertising. We have a modified experience for viewers using ad blockers

Wikia is not accessible if you've made further modifications. Remove the custom ad blocker rule(s) and the page will load as expected.